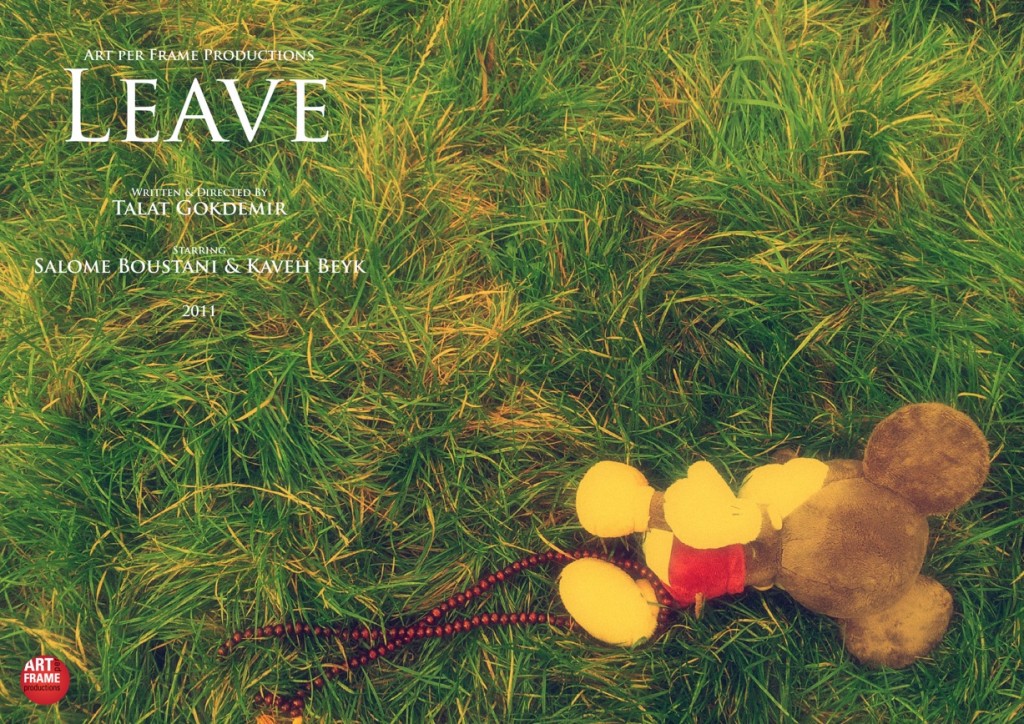 21/6/12 – My main focus since the start of last year was a short film I had written titled 'Leave'. A script which I had first started writing in 2010, inspired by two things: A spanish speaking female friend, which would entitle a foreigner living in London and a scene where this foreigner knocks on a door and then turns her head towards the camera to reveal she has a bruised eye.. That's all I had and that's how the scriptwriting process usually starts. A small dose of inspiration and a visual cue..
After various drafts, I decided to put it aside as I wasn't entirely satisfied with it and I had more important concerns to deal with (like my minor concern of would I even be able to stay in London to shoot the film as my position as a Teaching Assistant at the university had come to an end and my finances were at an all time low). The rest of 2010 was eventful. I spent three months back in Cyprus, shooting music videos and promos whilst getting roasted under the sun from hell. I returned back to London in September with 2 grand in my pocket, an amount of money which can go very quickly.. and it did. Thanks to a friend/angel who secured me a job, albeit non filmmaking related, suddenly positivity and more importantly, motivation erupted inside me. The opportunity to create something was on my doorstep..
I turned once more to 'Leave' and began to rewrite and develop the ideas whilst introducing new ones. As a heartbreak of a recent breakup faded away and the faint spring entered the shores of the British Isles, I finally had a script I was satisfied with. 'Leave' was a distraction I used to get away from all my personal problems and thanks to my friend and producer Madhulika Jalali (currently involved with shooting features in India), the preparation to actualise the project was underway. Not even a chaotic month like April 2011, where I spent a majority of my time taking care of a dear someone in hospital, could stop me from going forward with the film – 'Leave' was to start shooting on the last weekend of May..
Locations were chosen, cast and crew auditions took place, costumes and props were bought. Finally, the production began and was completed over the course of three days. There were a lot of problems and issues to deal with – sound was an annoying one like usual, lighting was a bitch and delays occurred due to illnesses.. It always feels like a miracle once you finally call out wrap. Suddenly the mental and physical fatigue due to months and months of hard work leaves itself to euphoria and fulfillment. To a certain extent of course, there is always the final part, post-production..
We wrapped in mid June and the film was completely done on the 5th of December. It took me close to 6 months to put everything together in a cohesive way. Editing is like re-writing. So many changes happen, the film can shift moods and layers can appear in front of your eyes – it becomes a whole different animal. I was satisfied, it was the first film I could show someone without feeling (too) unworthy. So began the process of sending the film to festivals around the world… these are the festivals it has been selected for until now.
March 2012 – Ljubljana International Short Film Festival in Slovenia
May 2012 – Fastnet Short Film Festival in Ireland
June 2012 – Shqip International Short Film Festival in Kosovo
September 2012 – Salento International Film Festival in Italy
October 2012 – Cyprus International Film Festival in Cyprus
It's a good feeling for someone who has no idea of who you are, no concept of your existence to appreciate your work and to screen it abroad.. This can only be a further motivation for me to keep along this path, to try my best to keep productive. (To do this, it's very important to have a stable financial income. I was working 9.30 to 6 every day during that period so any work on the film had to be done at night or during the weekends. The total cost of the whole film was £570, excluding festival submissions, some which charge a fee)
T
ps. As the film is still in the festival circuit, it can not be seen on my website but anyone interested, please drop me a comment and I'll send a private link to the video itself.