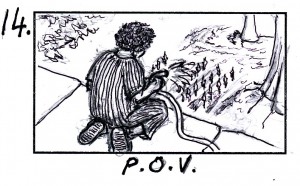 14. EXT.HASAN'S HOUSE-BACK GARDEN.DAY
FATMA(60) is kneeled down, watering the vegetables with a
hose pipe. She turns her head as she realises someone is
standing behind her and sees Hasan looking at her. Fatma,
slightly hunched, stands up and wipes her wet hands on her
clothes before walking towards Hasan.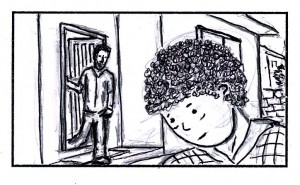 Fatma holds Hasan's cheeks and kisses them, then embraces him.
FATMA
You really came.
HASAN
I did mother.
*storyboards courtesy of Alasdair Bayne, storyboard artist on 'Haftasonu' (Weekend)