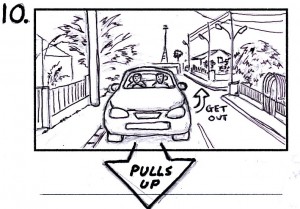 10. EXT.HASAN'S HOUSE.DAY
The car parks in front of the house. They both get out.
Hasan grabs his bag from the boot. They hug.
IRFAN
I'll see you tomorrow then.
Hasan nods. Irfan gets in the car and drives off. Hasan
turns his head to the house in front of him. A white
walled bungalow with visible signs of restoration made
over the years with a small garden and patio at the front.
On the side, there is a small dirt path of the driveway
leading to the garage. Hasan lifts the squeaky handle of
the gate and enters.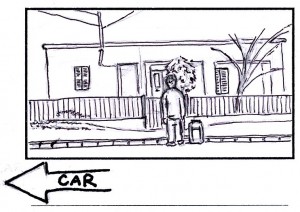 11. EXT.HASAN'S HOUSE-PATIO.DAY
An old WOODEN CHAIR is on the concrete part of the patio.
Hasan looks at it, then walks past it towards the open
front door.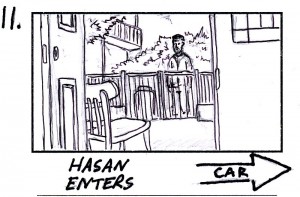 *storyboards courtesy of Alasdair Bayne, storyboard artist on 'Haftasonu' (Weekend)